Prompting and other algorithmic curiosities
Digital Methods Summer School and Data Sprint 2023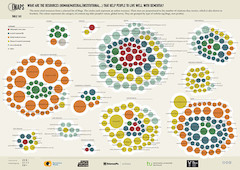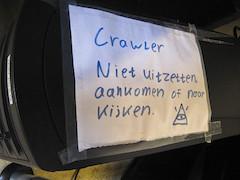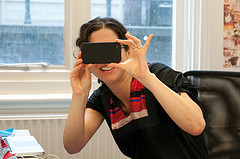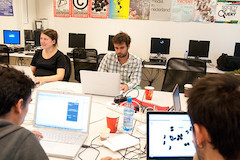 Digital Methods Summer School and Data Sprint 2023
3-14 July 2023

https://wiki.digitalmethods.net/Dmi/SummerSchool2023
In-person
Opening day location:
University of Amsteram
Roeterseiland 11
Room C1.03
Everyday location:
Media Studies
Turfdraagsterpad 9
1012 XT Amsterdam
the Netherlands
Project write-ups
Important Links
Note: Some of these links are still in progress (✿◠‿◠)
Digital Methods Summer School and Data Sprint: Call for Participation
The Digital Methods Initiative (DMI), Amsterdam, is holding its annual Summer School on 'Prompting and other algorithmic curiosities'. The format is that of a (social media and web) data sprint, with tutorials as well as hands-on work for telling stories with data. There is also a programme of keynote speakers. It is intended for advanced Master's students, PhD candidates and motivated scholars who would like to work on (and complete) a digital methods project in an intensive workshop setting. For a preview of what the event is like, you can view short video clips from previous
editions
of the
School
.
Prompting and other algorithmic curiosities for knowing AI
Algorithmic auditing and probing are methodologies to tease out discriminatory, offensive and other undesirable outputs of AI-driven systems and may lead at once to critiques of reinforcement and reification as well as to subsequent efforts at debiasing, retraining, patching, editing and other means to moderate the content. One aspect of the auditing that is less well understood is how best to trigger the systems to show how well thought through the safeguards are. Journalistic and scholarly work on probing Google's autocompletion has been undertaken for years, yet more attention is paid to the sometimes shocking outputs than how to elicit them. 'Prompting' strategy (and 'prompt design') may be considered elicitation methods for learning the machine's capacity for offence and other auditing interests. Or more dramatically perhaps, how to learn what lurks within the machine? The Digital Methods Summer School is dedicated to machine curiosity and its methods to make AI knowable.
Project write-ups (how-to)
Please make a project page on the wiki, and add your project write-up. Please use the Wiki template:
http://bit.ly/dmi22-ss-template-wiki
. Here is an example of a project wiki page,
https://wiki.digitalmethods.net/Dmi/WinterSchool2019Normiefication
. You can place multiple sub-projects into one wiki report, or you can create a set of subprojects by placing them under main project title. Practically speaking, to create a project page, make a wiki page such as
https://wiki.digitalmethods.net/Dmi/SummerSchool2022TikTokMisinfo
by typing such a URL (please note the URL syntax - /Dmi/SummerSchool2022 followed by shortened project name). Then 'create' the page (called a 'topic'). When you try to edit a page, you'll be asked to log in, at which point you can create an account. Account creation should be enabled. Here is the Wiki template:
http://bit.ly/dmi22-ss-template-wiki
. Please link your project write-up by title below (by editing this page). If you are unable to create a wiki page or account, please send your final report (
using the template
) to the organizers.
Project write-ups
Applications: Key Dates
There are rolling admissions and applications are accepted until 15 May 2023. To apply please send a letter of motivation, your CV, a headshot photo, 100-word bio as well as a copy of your passport (details page only) to summer school [at] digitalmethods.net. Notifications of acceptance are sent 1-2 weeks after application. Final notifications on 16 May. The full program and schedule of the Summer School are available by 20 June 2023.
Tuition Fees, Completion Certificates & Accommodations
The fee for the Digital Methods Summer School 2023 is EUR 895, and upon completion all participants receive transcripts and certificates (worth 6 ECTS). To complete the Summer School successfully all participants must co-present the weekly final presentations and co-author the weekly final project report, evidenced by the presentation slides or poster as well as the final report(s) themselves. Final reports should appear on this wiki (
handy template
) and contain a link to the final presentation slides or poster. They are due four weeks after the end of the Summer School. There are no other attendance or completion certificates issued other than the transcripts.
Payment information is sent along with the acceptance notification. Students at the University of Amsterdam do not pay fees. Members of Dutch Research Schools and alumni of the University of Amsterdam pay half fees. There are no other discounts.
The Summer School is self-catered. The venue is in the center of Amsterdam with abundant coffee houses and lunch places.
We have available accommodations at this hotel:
The Social Hub Amsterdam
Jan van Galenstraat 335
1061 AZ Amsterdam, The Netherlands
(Arrival: 2 July 2023; Departure: 15 July 2023)
https://www.thesocialhub.co/amsterdam-west/
Use discount code: DIGITALMETHODS (It only works for Arrival: 2 July 2023; Departure: 15 July 2023. For different dates, contact the hotel directly.)
To avoid disappointment, please contact them as early as possible. Please bring your laptop computer, your European plug as well as the HDMI/USB-C adaptor for connecting to the projector.
About DMI
The Digital Methods Summer School is part of the Digital Methods Initiative (DMI), Amsterdam, dedicated to developing techniques for Internet-related research and to the study of the natively digital. The Digital Methods Initiative also holds the
annual Digital Methods Winter Schools
, which are intensive and full-time undertakings in January. There is a practical textbook,
Doing Digital Methods
(Sage, 2019). The
Digital Methods
book (MIT Press, 2015) provides the methodological outlook that frames and informs the work of the DMI. It is accompanied by a companion volume about mapping social and political issues with digital methods:
Issue Mapping for an Ageing Europe
(Amsterdam University Press, 2015), which is also
freely available on the web
as an open access monograph. Further information and resources about digital methods can be found at
digitalmethods.net
- including links to example
projects
,
publications
,
tools
, an introductory "
founding narrative
" about the Digital Methods Initiative as well as short bios of the
affiliated researchers
. The coordinators of the Digital Methods Initiative are Dr. Sabine Niederer (Amsterdam University of Applied Sciences) and Dr. Esther Weltevrede (New Media & Digital Culture, University of Amsterdam), and the director is Richard Rogers, Professor of New Media & Digital Culture, University of Amsterdam.
About Digital Methods as a Concept
Digital methods is a term coined
as a counterpoint to virtual methods, which typically digitize existing methods and port them onto the Web. Digital methods, contrariwise, seek to learn from the methods built into the dominant devices online, and repurpose them for social and cultural research. That is, the challenge is to study both the info-web as well as the social web with the tools that organize them. There is a general protocol to digital methods. At the outset stock is taken of the natively digital objects that are available (links, tags, threads, etc.) and how devices such as search engines make use of them. Can the device techniques be repurposed, for example by remixing the digital objects they take as inputs? Once findings are made with online data, where to ground them? Is the baseline still the offline, or are findings to be grounded in more online data? See R. Rogers (2009),
The End of the Virtual: Digital Methods
. Amsterdam: Amsterdam University Press.
Social
We are using the #DMI23 hashtag as the backchannel for communication (to use a throwback term for Twitter usage). Some pictures from a past
Winter School
. Here is the
Facebook Group
from one year, and from a
Summer School
. Here are pictures from a variety of
DMI Summer and Winter School
Flickr streams.
EU Project
The Summer School is part of the EU Projects,
SoBigData++
and
Vera.ai
.