Objects of Sentiments in the case of the Woolwich Murder
Team Members
David Moats, Mads Emil Dalsgaard, Jack Keenan, Simeona Petkova, Catherine Somze, Nadia Dresscher
Introduction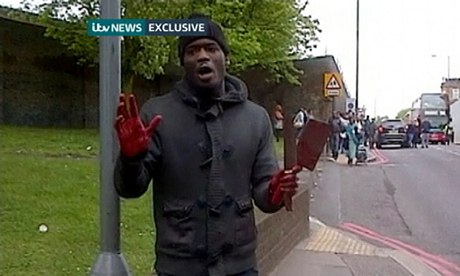 On May 22nd, 2013 two British Muslim converts -
Michael Adebolajo and Michael Adebowale-
killed the soldier Lee Rigby in what has been called 'the Woolwich Murder'. According to the Guardian (date here) this was the first UK murder ever to be transmitted 'live' on the Internet. Also, according to the Guardian, the Woolwich murder sparked more muted political response than other previous attacks (date here).
Questions
we have two different twitter data sets to analyse:
Twitter datasets:
Woolwich Discover Text Data Set (week of the murder)

Trail Data Set (week of the trail)
How does the 'sentiment' change over time between the murder and the trial alternate: Comparing the time immediately after the woolwich murder with the time of the subsequent trial, what were the differences in volume, topics, and sentiment of the online (conversation)?
How does sentiment analysis compare to co-word?
Can we make sentiment object-based?
Does sentiment analysis detect bots?
Methodology
1. Qualitatively investigate the data set
Identify spikes in activity

Top Hashtags, Users, URLs, Retweets
Which objects relate to the topic? Which ones work over time?
2. Hashtag - Co-hashtag with sentiment
3. URL - Sentiment of Tweets over Time
4. Top Mentioned @Users Sentiment and Following
Findings
Discussion
Bibliography