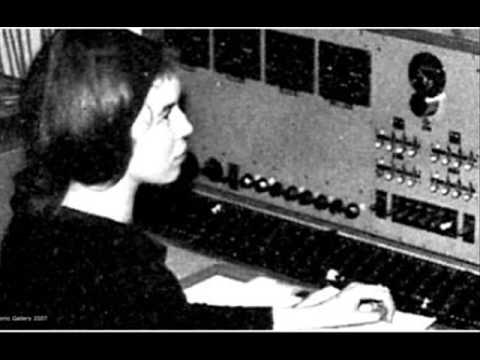 Project: Where are We?
Finding what kind of space online exists for women electronic music composers
Team Members
Magda Olszanowski and her laptop
Literature
Rolf Grossman in his 2004 article,
The tip of the iceberg: laptop music and the information-technological transformation of music
, states that: "
the fact that MAX/MSP and Pure Data are among the most popular programming environments on the desk- and laptops of experimentally minded artists is not only due to the flexibility of the systems *but also due to the existence of a community which makes a large number of self-developed objects available on the Internet*
(7)." In my preliminary research into the organization of space online within the electronic music scene, particularly one outside the academe, I want to use his claim as a baseline for my project. I am curious about the kind of space and support that occurs within the community for women composers. Does the common knowledge claim that women composers are underrepresented true? Andra
McCartney
, a feminist musicologist in her report,
In and out of the sound studio
, has concluded that, "
Many participants have spoken of the importance of vis- ible and audible female role models in the field. If they were not able to meet these people (as is often the case), they wanted to find out more about their working processes
(92)." Her findings also discover that sound students in communication studies and multimedia courses, as well as sound artists and audio engineers working in the field, also look far and wide for such sound examples of female role models. Consequently, the intention of her project is to study the experiences and working practices of women sound producers in Canada, and to produce a multimedia computer installation and set of articles about their ideas, approaches and philosophies. How can I too use digital methods to enrich my research? If I find a thriving online space (which I speculate I won't) that supports and does not reify gendered stereotypes, could then the Internet be encouraging more women to compose music? How can I find out a direct correlation to this question? Do I need to?
Method
My first step is to see how many times women from the Expert List are mentioned (queried Google for results), then search out where they are mentioned most frequently, furthermore if they are present in the popular places of discussion about electronic/electroacoustic music. A peripheral step is to find out what the most popular places for electronic/electroacoustic discussion are online. Who are the actors that influence us as music listeners?
More specifically...
My own List of Women Electronic Music Composers outside the academe
Mira Calix (London, UK)
Mrs Jynx (Manchester, UK)
Doubtful Guest (London, UK)
Pauline Oliveros (New York, USA)
Vaccine (San Francisco, USA)
Mary Ann Hobbes (London, UK)
DJ Rap (London, UK)
Maylee Todd (Toronto, CA)
Ikonika (London, UK)
Berangere Maximin (Paris, FR)
A master list I found that I have been using for my searches: Expert List of women electronic music composers (nr=199) from LAST.FM "
Women in Electronic Music
" community into Google Scraper. How does my group fare? Google
BlogSearch
Scraper
Issue Crawler
Finding a space in academic journals
does not produce meaningful results. in " ISI Web of Knowledge : Query "women AND composers" (186 results) then refine results with "electro*" (1 result)
Online Publications that are NOT Blogs
IssueCrawler
Cluster Map shows that
MySpace
.com is still a very relevant website for music information acquisition. Did not give me any new magazines to search.
Further Thoughts


Wikipedia does not have category "women electronic artists" > but does "women composers" and
American women artists
Problems and Future Thoughts
Figuring out a baseline set to work with and then proceed with it. How do you study a community and make it into an issue? Wanting to interrogate social spaces: Twitter, Facebook, Flickr, music forums, BLOGS. Difficult to be thorough without access to Facebook. Is there any correlation between the artists' presence online and their popularity in other platforms/websites? How would I check for this?
Findings
Soon!