Discover a website's rank in the returned Google results per issue/query.
Instructions
The tool Pagerank, or Google Result Rank, shows the position of one or more sites in the top 1000 results for a particular query in Google. Method:
1) Input a list of keywords (comma separated)
2) Input one or more URLs (one URL per line)
3) Show Google Pagerank
Sample project
Compare the rankings of an organization's issues. Where is the organization in Google results for queries of its issues? As of December 2008, Public Knowledge, the citizens' rights advocacy organization working in the area of digital culture, has the following issues:
700 MHz Spectrum Auction
Anti-Counterfeiting Trade Agreement
Broadband
Broadcast Flag
Comcast Complaint
Copyright
Digital Millennium Copyright Act (DMCA)
Network Neutrality
Open Access to Research
Opening the White Space
Orphan Works
Patent Reform
Selectable Output Control
Text Message Petition
Trademark
WiFi Municipal Services
WIPO Broadcasters Treaty
To determine the impact of Public Knowledge for each issue, on the Web, the Google Result Rank tool is used. Procedure Use the Google Result Rank tool which shows Public Knowledge's Google ranking per issue. Thus if an engine user searches for "orphan works" where does Public Knowledge figure in the results? Is it seen by the engine as an important source of information for the issue? In the top box, paste Public Knowledge's issues. Their issues may be found at
http://www.publicknowledge.org
, under "issues." It is not unusual for NGOs and other issue professionals to have neat issue lists on their Websites. "700 MHz Spectrum Auction","Anti-Counterfeiting Trade Agreement","Broadband","Broadcast Flag","Comcast Complaint","Copyright","Digital Millennium Copyright Act (DMCA)","Network Neutrality","Open Access to Research","Opening the White Space","Orphan Works","Patent Reform","Selectable Output Control","Text Message Petition","Trademark","WiFi Municipal Services","WIPO Broadcasters Treaty" In the bottom box, enter the URL of the organization.
http://www.publicknowledge.org
The Google Result Rank tool outputs the organization's rank per issue query. It also may be used to analyze the specificity of the organization's presence in the google results issue space.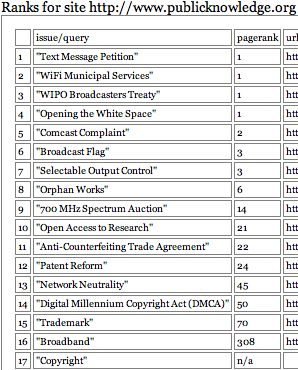 Dmi Protocols
Protocols devised by the DMI This page is being replaced gradually by our new research protocols and methods page. Hyperlink Analysis * Perfom an issue craw...
---
Protocol Information Hierarchy Research
Show a site's pagerank per query or set of queries by following these steps.1) Input in the Google Pagerank tool a list of one or more keywords, comma separated, ...
---
Summer School 2007
Digital Methods Summer School 2007: New Objects of Study 2010 2009 2008 2007 How does one do research online? What are the new objects of study, and how do ...
---
Test Home
DMI Tools Digital Methods Project Overview FAQ Tag Cloud Introduction The Digital Methods Initiative is a contribution to doing research into the "nati...
---