Controversy Mapping
Team Members
Jeroen, Paul, Alessandro, Maria, Sabine
Research Question
Main question: Is the debate about vaccination (and its postulated negative side effects) a national discussion, or an international one? Subquestions:
Comparing across countries, where is the vaccination controversy most present?
Does the controversy make it into the top of search results for the query 'vaccination'?
And if so, in which type of sources does the controversy resonate? (gov? edu? forums? and are they skeptical or not?)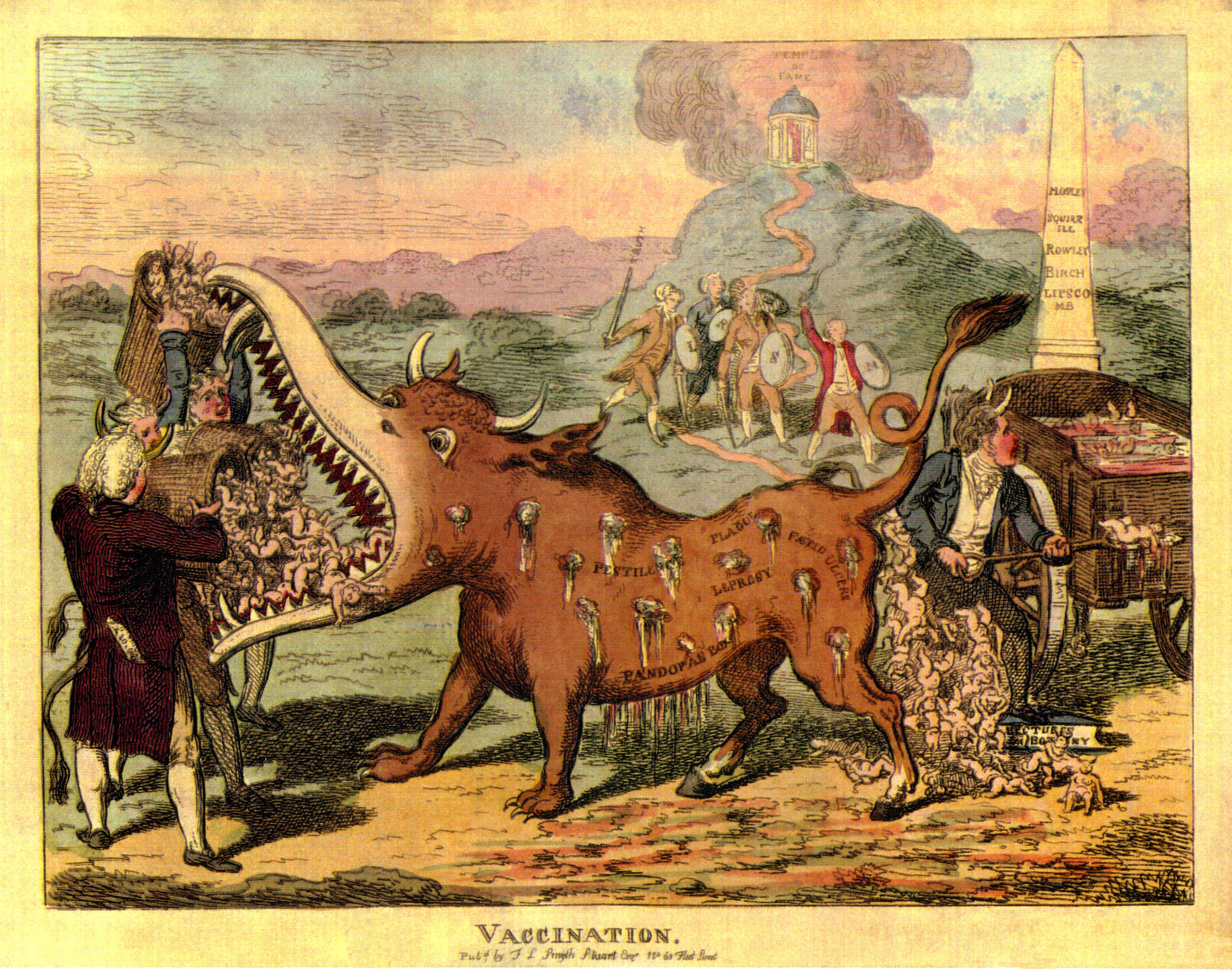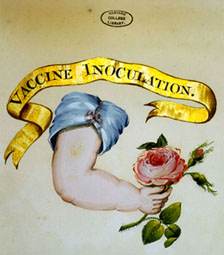 Left: The image on the left is known as the 'Vaccine Monster' from (1807). On the right a woman's arm with vaccination marks, from 1801. [Benjamin Waterhouse (1801),
The Origin of the Vaccine Inoculation
(London: D. N. Shury)].
Steps in Method
The first step is to collect issue language or 'controversy terms' within the vaccine space. We started from the wikipedia entry on the vaccine controversy:
http://en.wikipedia.org/wiki/Vaccine_controversy
, as well as a long-list of anti vaccination articles (via mappingcontroversies.net):
http://www.vaclib.org/indexdoc.htm#basic
, see word clouds below. Cloud of the
Vaccine Controversy article on Wikipedia
:

Note, a PMID (
PubMed
Identifier or
PubMed
Unique Identifier) is a unique number assigned to each
PubMed
citation of life sciences and biomedical scientific journal articles (sources: en.wikipedia.org/wiki/PMID and www.ncbi.nlm.nih.gov/pubmed/) Cloud of the
Vaccination Liberation Index
(based on the titles of anti-vaccination articles, listed on the website):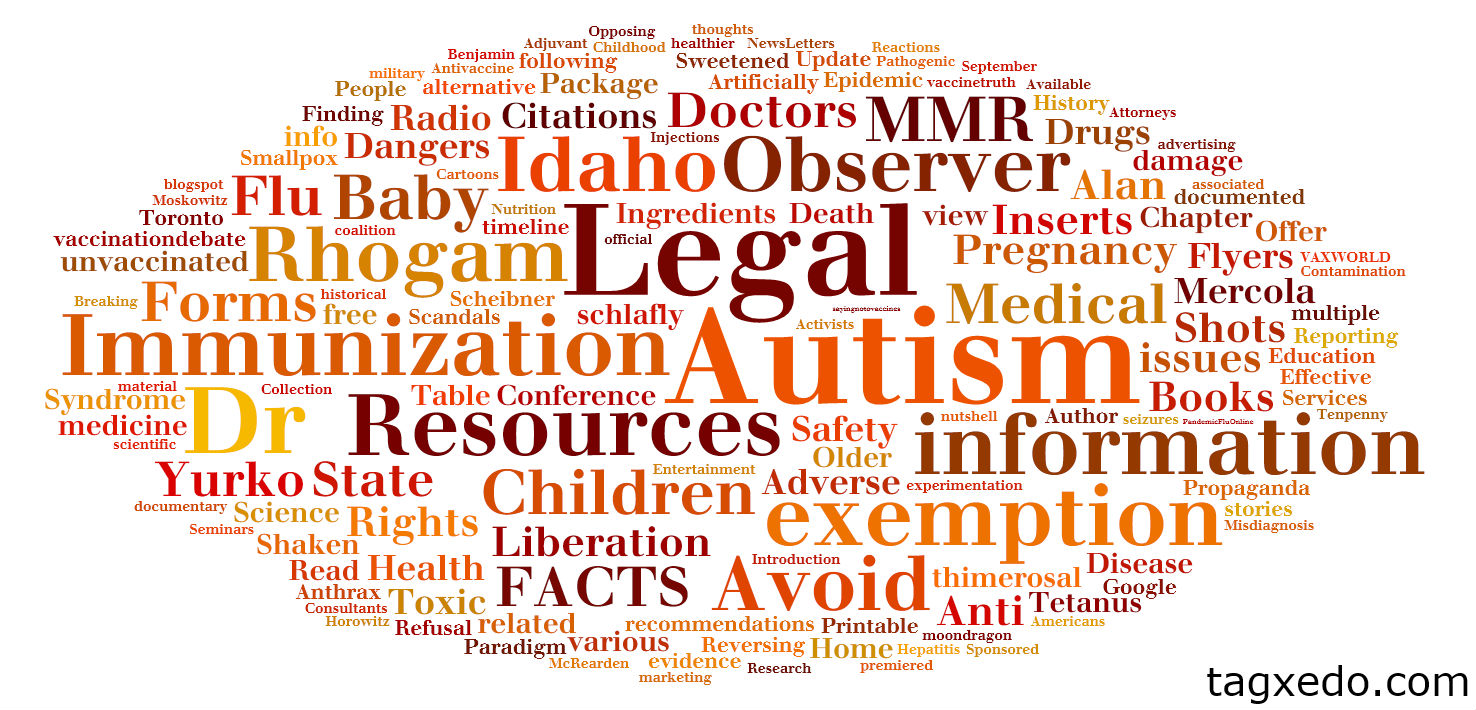 subsequently, we read three articles on the (history of the) vaccination controversy (list them here) and compiled a list of keywords, focusing on the supposed (and contested) possible side effects of vaccination: autism, sudden infant death syndrome, epilepsy, multiple sclerosis. Using the language skills in the group, we translated the query 'vaccination' and the keywords into Dutch, Italian, French and Spanish, and queried local Google versions: google.com, google.co.uk, google.com.au, google.de, google.it, google.es, google.nl, google.be. To compare the resonance of the keywords within one visualization, we created a bubble line chart.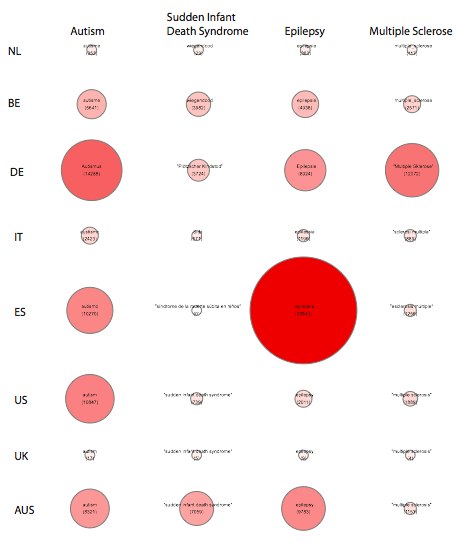 Get the full chart here:
VaccineControversy_Bubbles.pdf
:
VaccineControversy
_Bubbles.pdf After this, we zoomed in on 'autism' in the vaccination space per country
Controversy Clouds per Country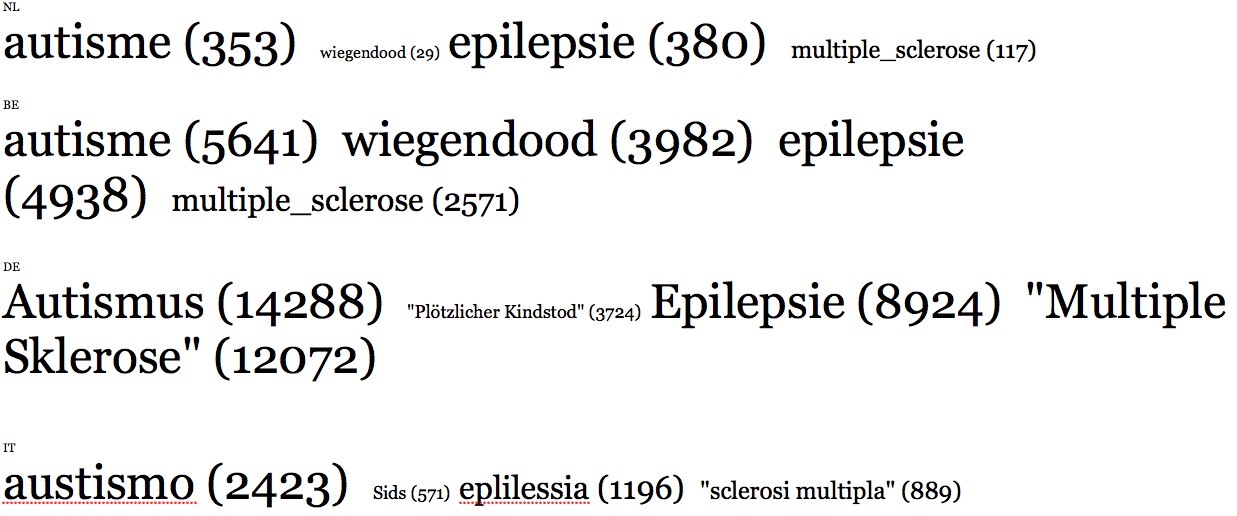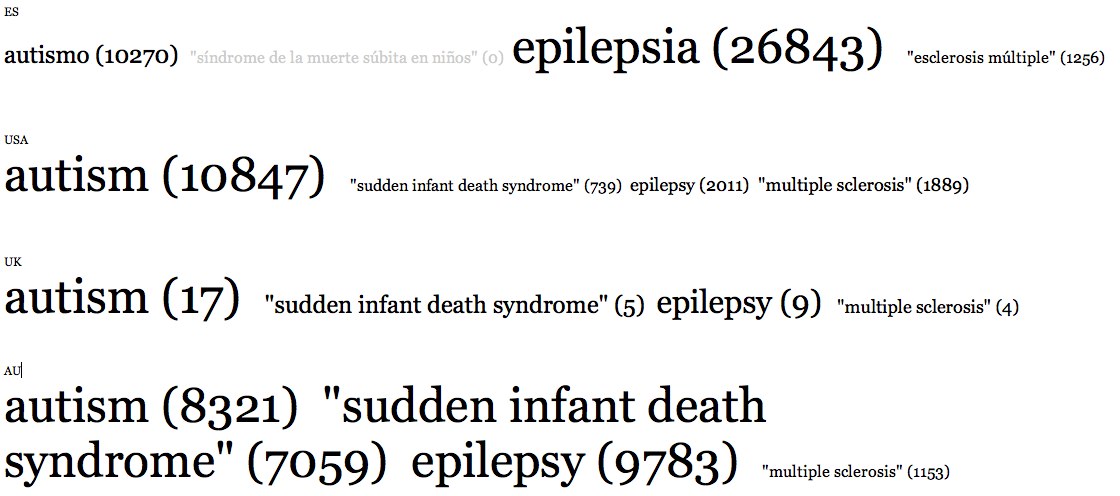 Source Clouds and Findings per Country
subissue: autism
Everyone, please insert/check blurbs per country here:
USA
Vaccination risks are understated by government and the medical profession.
Toxic chemicals are contained within vaccines.
No-one should be forced to vaccinate.
The websites that resonate in the US are both national and international. There are websites several websites from Australia included in the top 10. The top 4 sites are run by sceptical non-profit organisations and the other sites are run by a variety of organisations.
United Kingdom
Australia
The Netherlands
Search engine: Google.nl Query: Vaccinatie
Top source for autism: www.nvkp.nl, Dutch anti vaccination organization. Position in Google results for 'vaccination': 1
Claims: Breakthrough: U.S. Court of Federal Claims has determined that thimerosal, a preservative containing mercury in many vaccines for children, can cause autism.
Largest sources: Governmental organizations (2 out of 6). Just one of the sources – actually the main source - of them is skeptical.
Nationality of search results: All Ducth.
Belgium
Search engine: Google.be
Query: Vaccinatie
Top source:
http://www.vacciweb.be
, Belgian health portal for questions on vaccination.
Claims: The link between vaccination and autism has not been scientifically proved and belongs to the realm of rumors.
Vaccines have some side effects but are generally safe. Experts know what they are talking about
In some cases vaccination is not necessary (e.g. 'common flu'). But if necessary (follow the experts) vaccination is a good idea.
Largest sources: Governmental organizations (4 out of 10). None of the sources is skeptical.
Nationality of search results: All Belgian, but remarkably the top search and one other website are written in French (the language of the Walonians). Nb. The second top source is the Dutch – and not the Belgian! - Wikipedia page on vaccination.
Germany
SourceCloudGermany
Position in Google results for 'vaccination':
Italy
No-one should be forced to be vaccinated.
Mandatory vaccinations are in contrast with the Civil Rights
Mandatory vaccinations hinder the right of acting, thought, and information.
Largest sources are Governmental organizations (4 out of 10). Generally speaking 7 sources out of 10 are not skeptical.
Nationality of search results: All the sources are national, just one links to the Board of Health of Switzerland.
General Comments upon the Italian scenario
Looking at "Italian cloud" (relatively the keyword "autismo") we can see that the most prominent actor on the scene is
Comilva.Org
.
Comilva
is a web forum related to a national association (mainly composed by parents) which claims to fight for the right of not-being-vaccinated lawfully. As said,
Comilva
is a local association acting on the Italian territory, anyhow it claims to fight in order to obtain the right of not-being-vaccinated in Italy
as well
. So we can say, in some extend, the overlook of the web site is international.
Comilva is not adverse to vaccination
per se
, in fact its skeptical discourse hinges on
civil rights
. Basically Comilva claims that a mandatory vaccinations is a contradiction in itself and it contrasts with some basic civil rights like freedom of acting, freedom of thought, freedom of information. Thus Comilva deploys a sort of "libertarian" discourse.
But notwithstanding its prominence Comilva figures only at the eighth place of the top 20. The first two places are occupied by
Levaccinazioni.it
and
Salute.gov.it
, which are both governmental web portals and, predictably, non-skeptical.
Therefore we can conclude that in Italy Google does not grant much voice to skeptics. Skeptics have few room on the Internet, room that is mainly occupied by the presence of the Government.
Spain
http://www.guiainfantil.com/salud/vacunas.htm
Health information portal for parents. Not Skeptical.It assumes that vaccination is "natural" and offers advices and vaccination calendar for parents. It warms about general slight side-effects, not about autism. Claims: No remarkable claims Largest sources: Sources were governmental web pages (7) and health portals (3- one of them was personal and devoted to the promotion of vaccination). All the sources support vaccination and only assert slight and commonly risks of vaccines (mainly fever). Nationality of search results: Fifty percent of the sources (5) were national, three were based in Latin American countries ( Argentina (2) and Mexico (1), one in the US and one was an international Latin American portal. Skeptical pages were not found. Note: vaccination debate could be also related with language communitiesà The web based in the US was supportive with vaccination although in this country there is an active movement against it.
Resources
This project is part of the
DmiSummer2011Projects
Tools used: Harvester Lippmannian Device Tag Cloud Generator Bubble Graph Tagxedo